St Gerards SCT Narrowly loose to Roscrea in Semi Final of Leinster Cup
---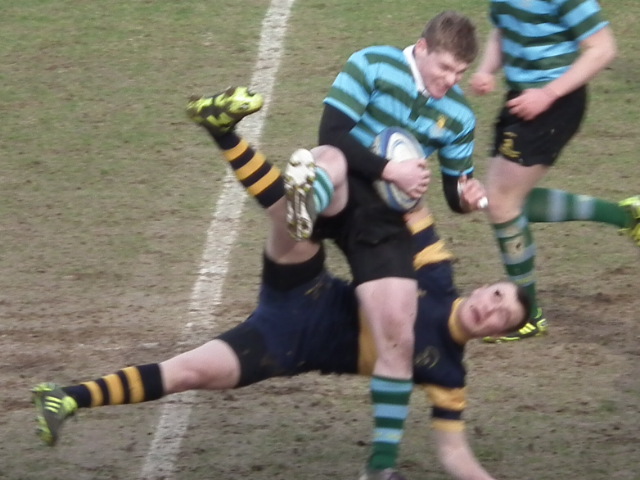 Monday, March, 7th, 2011


SCT- St Gerards were beaten by Roscrea 18-14 in close encounter at Donnybrook yesterday afternoon.
It was really a game of two halves, with St Gerards dominating the second half but failing to turn that domination into points. Roscrea got off to a flier, scoring twice in the right hand corner in the opening fifteen minutes to lead 13-0. St Gerards only then started to settle and get into the game proper. An easy penalty by Crosbie on the twenty minute mark was this the start of the St Gerards comeback. In fact to many observers it looked like St Gerards had scored under the posts ten minutes from half time.
However on consultation with the touch judge a penalty was awarded to Roscrea!
Trojan work by CONAN, Hacket, Delaney and Symes, up front and great running by Shiel and Desmond ensured that despite trailing 18-6 at H-T it was game on..
St Gerards completely dominated the second half. Roscrea seemed to be content nursing their lead, and were happy to give up penalties whenever Gerards threatened their line. This spoiling tactic resulted in one sin binning, and ultimately paved the way for a Roscrea/Clongowes final on St Patricks Day.
Conan seemed to be too generous in passing out a wayward pass to his wing when many felt his momentum would carry him over despite being well tackled by the last Roscrea defender. Another opportunity missed was a decision to go for a difficult penalty attempt(missed) with 8 mins to go when surely a kick to the corner was the better option. Wojnar and Prendergast had been magnificent in the line out all day.
All in all it was a gutsy effort from a team who probably now will have to show their true potential when they probably meet Roscrea again in the final of the League.
As past pupils and players it was a pleasure to witness such a gutsy performance that just fell short on the day. You should all be proud that in the last thirty odd years WE have progressed from a weak section team that occasionally gets in to the SCT proper, to a real force that has now reached the Semi finals for a third time in six years…