St Gerard's SCT lose to Gonzaga 6-3 in close encounter.
---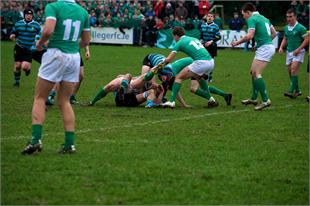 Monday, January, 31st, 2011


St Gerard's lost to Gonzaga in a hard fought defensive tussle at Stradbrook today.
The game was in the balance right to the end with Gonzaga holding their nerve and narrowly coming out on top.
In the end there was only a penalty kick in it. Sam Kingston put St Gs ahead after only 10 minutes  with a  straight forward kick which was awarded after St Gerards had opened the first quarter with an onslaught of constant pressure. Gonzaga equalized on 25 minutes when they were inflicting the same pressure. The first half was a stale mate with ferocious tackling from both sides to prevent the other advancing.  Sloppy knock on s from both teams was the story of the first half.
St Gerard's lost to Gonzaga in a hard fought  defensive tussle at Stradbrook today.
Despite having the wind against them, St Gerard's opened the second half with real gusto and were rewarded with two penalties 7 and 15 mins in that  Sam failed to convert. The strong wind was definitely a factor. A great run by Captain Keith Carroll nearly broke the deadlock. Jack Prendergast, Jamie  Mooney and  Oisin O Neill did Trojan work from the back row. Every one to a man tackled superbly. A far cry from the St Gerard's teams of the seventies!
Gonzaga converted a penalty with ten minutes to go and then went into defense mode. Cleverly holding on to possession and kicking for the corner with the wind at their back.  Try as they might St Gerards couldn't get into a scoring position. Con Callan has to be singled out for reading all aspects of play superbly. He certainly is a name to look out for, especially as he is only in transition year. St Gerards can hold their heads up high in defeat and look forward to a good run in the Plate. And Us old boys can take solace that over half the squad are from 4th and 5th year so we all have next year to look forward to…
Check out Wow photos of the match – they are AMAZING !