St Gerards SCT beat Kings Hospital 22-17
---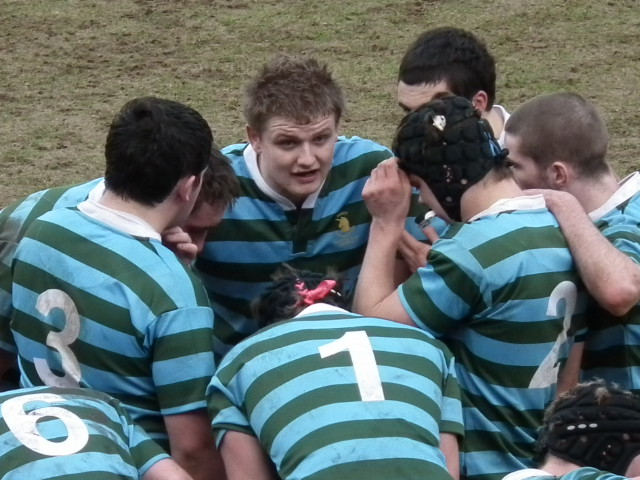 Friday, February, 11th, 2011


St Gerard's grind out a win over Kings Hospital to advance to Semi Finals !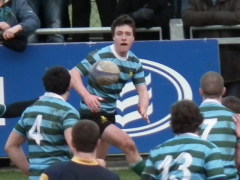 St Gerard's will meet the winners of Terenure/Roscrea On Sun March 6th in the Semi finals of the Powerade Senior Cup. They managed to beat Kings Hospital 22-17 today ay Donnybrook in a close run contest where the result was in the balance Right up to the final whistle. St Gerard's took an early lead with a Steve Crosbie penalty after just 5 minutes. Kings Hosp  equalised three minutes later. 10 minutes later St Gerard's got their chance when the ball was passed out the back line smoothly from a solid scrum.
Simon Smith scored easily in the corner, which was converted by Crobie who brought his kicking game with him today.
The rest of the first half was all about defending the constant pressure from Kings Hosp. They were rewarded on the 33 minute mark by their number 8 who scored in the corner, which was then converted by Josh Hinde. The last 5 mins of the half was relentless pressure with Kings Hosp camped inside St Gerard's 22. The referee was the wrong side of a maul that looked like a try from those sitting in the stands. St Gerard's defended stubbornly to leave the score at 10-10 going into the break.
St Gerard's  were more cohesive in the second half and after 38 mins, Crosie slotted over a penalty to give them a narrow lead. But Luke Satchwell the Kings Hosp tireless number 8 had other plans, and scored shortly after, which was duly converted. Crosbie added another penalty on the 48 minute mark  that left St Gerard's trailing 16/17 with just twenty minutes to go.
A nail biter was in store for the last 20 minutes..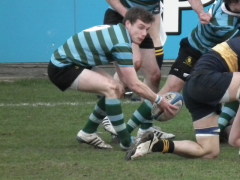 St Gerard's moved into attack mode and started playing with great rucking,mauling and smooth passing. On the 70 minute mark a planned play resulted in a Crosbie drop goal that gave Gerard's that vital lead. Now Kings Hosp were on the back foot and had to go into attack mode instead of protecting their one point lead. St Gerard's defended brilliantly in the last 10 mins. They were awarded a penalty with a couple of mins to go, that Crosbie duly slotted between the uprights. There was no coming back from Kings Hospital, and
St Gerard's got their reward.
A third Semi final in six years. We eagerly await the encounter on March 6th. If they bring their A game then surely anything is possible!!!