St Gerard's our Rugby History by Michael McMullan
---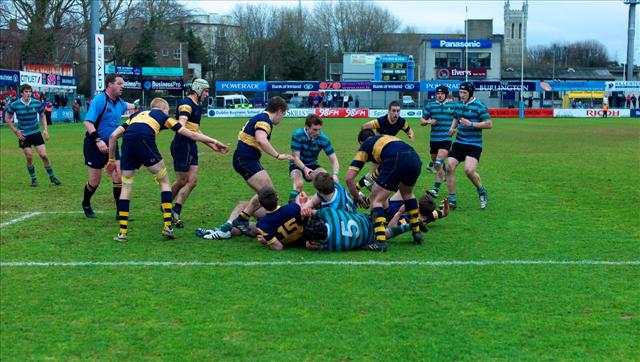 Wednesday, March, 2nd, 2011


Michael McMullen reflects on our Rugby History to date and calls for your support on Sunday 6th March
On Sunday next, March 6, our SCT takes the field in Donnybrook for the sixth time (and second semi-final) in two seasons. This is a far cry from when I first arrived in St. Gerard's to be greeted with the proud proclamation that we had just won the Thirds League. (This was in 1976 and we had no sixth years until the following year). Still, "Tall oaks from little acorns grow" and all that and I certainly knew that I had arrived in a serious rugby playing school. Within a year, we were playing in the Leinster Senior Cup and have continued doing so every year since. Indeed, we had by now produced a schools international, in Conor Jennings (ever heard of him?). Along side him, on the St. Gerard's team featured such notables as Delamer, Roy, Duffy, Patchett et al of whom we have heard a lot over the years (notably from the then headmaster Michael O'Horan – I'll not go on!!!).
I know how iniquitous it is, in this context, to mention names (as inevitably deserving cases are inadvertently omitted) so I'm going to avoid that as much as possible. What I would like to do is to draw the attention of those interested to what I consider to be major stepping-stones along the way to the heights of the past few years. After a few near misses in the cup, we eventually won our first trophy – the Herculean efforts of John Carlos and Fergus Nolan finally paid off on March 21, 1982 with the winning of the Leinster Senior Plate. These are the words of a scribe of the time describing our win "Then, with only five minutes remaining, Eoin Gallagher collected another well-won scrum ball on the half-way line. The ball reached right wing Conor Smyth, who delivered an inch-perfect pass to full-back Ivan Power. Ivan then proceeded to bring the crowd to its feet with a scintillating run along the right flank. As he dived over to score the match-winning try, every St. Gerard's supporter and player raised their arms in jubilation. The last few minutes seemed like an eternity and then referee, John West, blew the long-awaited whistle. St. Gerard's had won! Celebrations lasted well into the night at the home of Mr. and Mrs. Gallagher".
I still have the video of that match in my possession!
Just for the record, to win the plate that year we had to defeat St. Mary's, Wesley and Gonzaga before our final victory over St. Michael's in the final.
By the way, there is an interesting reference in the school diary for Feb 9, 1985, to a "cheer practice led by an enthusiastic Denis O'Reilly encouraging all". 26 years later and he's still at it. We won a Senior Cup match that year v CUS (13 – 4) so let's hope that Denis's enthusiasm leads to an equally happy outcome next Sunday.
In 1987, Willy Morton became the first St. Gerard's back to play for Leinster. Forwards Conor Jennings (78), Ian Duffy (80), Cian de Buitlear (85) and Ciaran McNamee (85) had all donned the Leinster jersey in the previous ten years. Ian Duffy also toured Australia with Ireland Schools in 1980. I am not sure if Ian Sherwin played for Leinster schools in his time, but, if he didn't, in my opinion, he should have! In 1989, Conor O'Hara was selected for Leinster. In the same year, Justin Costello's team had a cup victory over a fancied High School side "with Conor Costigan landing a well-executed drop-goal to win the match".
In 1990, Mark Reilly played for Leinster Schools. (In the same year, our Juniors won section A of the Leinster Junior Cup with John-John Costello as captain. That same year (1990), the school undertook a highly ambitious and successful Boys' hockey/rugby tour to Canada.
In 1993, John-John Costello's team reached the Plate final, defeating Gonzaga and KH on the way before succumbing to Belvedere College in the final at Donnybrook.
In 1994, Ross Doyle's team reached the quarter-finals for the second time (Paul Dempsey's team having achieved this milestone years before) losing in the last three minutes to Castleknock. It was heart-breaking stuff but the season finished on a high note when we beat Pres. 13 – 3 in the local Derby – a rare occurrence in those days. That year, Shane Hunt (now a coach with the St. Michael's SCT) was on the team and was also selected for the U.18 Leinster hockey team. Captain Ross Doyle went on to acquire an AIL winners' medal with St. Mary's on the same day as Eoin Costigan won the equivalent in the Spanish championship!
In 1995, David Nolan toured Australia with the all-conquering Leinster schoolboys. He was also selected for the Irish schoolboys XV.
In 2002, Niall Clauberg's team reached the quarter-finals with a 27 – 0 win over CUS. We lost 14 – 13 to Castleknock and thus failed to make it to the semi-final.
In 2003, Alan Scanlan's team lost 13 – 11 to CBC in the semi-final of the Vinnie Murray Cup but went on to record a 15 – 7 victory over Kilkenny College in the Senior Cup proper but lost out to Belvedere in the next round. That same year, Shane Canavan became our latest Leinster cap.
In 2004, Tony O'Kane's team won the Vinnie Murray and Tony himself became our second schoolboy international (including playing in a victory over England, in England!) and Zach Desmond became a Leinster player and an All-Ireland Senior Rugby training panellist.
We were by now well into the 'golden age' of St. Gerard's rugby which reads as follows:
2004 – Winners of Vinnie Murray Cup (Captain Tony O'Kane)
2005 – League finalists and cup semi-finalists (played in Landsdowne Road
with captain Zach Desmond)
2006 – Kyle Tonetti – Ireland U. 19
Burschi Wojnar – Ireland U. 19
Cailbhe Doherty – Leinster U. 18 – rugby scholarship to UCD
2007 – Plate final. Max Duffy plays for Canada
2008 – Gareth Crotty (Capt.) wins rugby scholarship to UCD
2009 – Win Leinster Senior League. Stephen Toal-Lennon U. 19 Leinster. Jordan Egan
UCD  rugby scholarship and Capt.
2010 – Win Leinster Senior League for second time and reach semi-final of
Leinster Senior Cup defeating Terenure and Blackrock College
along the way. Captain Robbie Glynn. Josh Glynn, Jodie Crosby and
Jack Conan play for Leinster. Jack Conan plays for Ireland.
Rian O'Loughlin, Robin Maxwell and Adam Bowtell also wear blue
of Leinster.
2011 – Already qualified for League final and Cup semi-final (both still to be played).
Whatever success we have had in recent years is as a result of the flame that was kept alive by St. Gerard's teams over the decades. Great credit is due to all our coaches, mentors and supporters since our first entry into the Senior Cup in the late '70s. That is why we are asking you to turn up in your thousands next Sunday in Donnybrook – the day belongs to all Gerardians past and present. The current squad, I can assure you, fully merits whatever plaudits it has been offered so far. Please be there to proudly support the team that represents the school that you all attended.
To be continued ………
by Michael McMullan