St Gerards JCT Beat Kings Hospital 13-6
---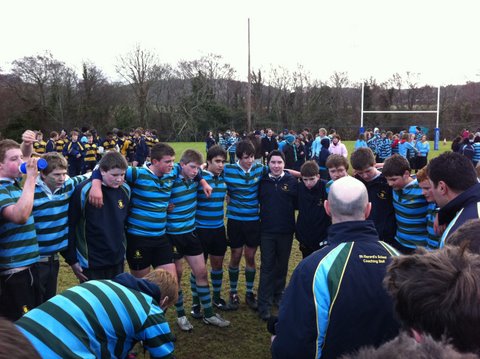 Tuesday, February, 1st, 2011


They will face Newbridge next Thursday February 10th at 2.30pm at Clondalkin RFC.
ST GERARDS into Powerade Junior Cup proper and Semi -finals of Fr Godfrey Cup.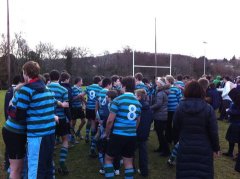 St Gerards beat Kings Hospital in a pulsating game 13-7 today. They will face Newbridge next Thursday February 10th at 2.30pm at Clondalkin RFC.
Despite constant pressure and over 70% of the possession by St Gerard's in the first  half, as well as playing with the wind at their back the score was 0-0 at the break. Some solid defending by Kings Hospital kept their supporters cheering and full of hope as they changed ends.
St Gerard's out-half Tommy Whittle whose territorial kicking was superb throughout, finally put them ahead when a penalty was awarded just  right of the posts half way through the second half. This was followed up five minutes later with a similar penalty that put St Gerard's 6-0 worthy leaders. However 10 minutes later Kings Hospital took advantage of  the only bit of sloppy play by their victors, when St Gerard's were penalised, and then penalised again for not being back ten. A few missed tackles later and Kings Hospital were over in the corner. Their out half duly slotted Over a very difficult conversion attempt from the corner to put Kings Hospital 7-6 ahead.
At this point it looked like Kings Hospital were set for the win as there was only five minutes left plus stoppage time. St Gerard's dug deep and never gave up. Some Trojan work from their pack , in particular Jack Ryan and  Aaron Cafferky led to a fantastic bit of play by the full back line. Full backMark Prendergast sprinted down the touchline for a great try in the corner.
Out Half  Tommy Whittle duly  slotted over the kick from the corner to give St Gerard's a six point lead going into injury time. They were not to be denied and defended really well
Throwing everything  back at the Kings Hospital  late onslaught.
A great victory for St Gerard's, and hopefully a good omen for the SCT team that meet CUS at Stradbrook tomorrow Wednesday 2nd Feb at 2.30pm. Well done to the coaches , Victor Drummy  their manager and the squad. We all look forward to next weeks encounter….