JCT lose to St Marys 15- 6
---
Saturday, February, 11th, 2012


In a scrappy game where St Gerard's failed to fire on full cylinders, St Mary's won convincingly 15-6.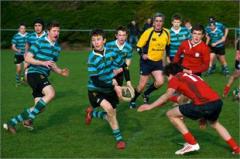 St Gerard's took an early lead on a well slotted kick  by Adam Simmonds after 10 minutes.  St Mary's got a penalty from the following kick off to level the score. In the first Half St Gerard's looked dangerous a couple of times but some silly knock ons meant that they could not capitalize. St Mary's  scrum half had a lovely box kick that he used often to good effect.
St Mary's took the lead after 15 minutes  and constant pressure  from the front eight, which they duly converted. Ten minutes later from an opportunist kick ahead by the Mary's scrum half, their winger beat the race for the try line to touch down. St Mary's went into the half with a comfortable 15-3 lead.
In the second half Gerard's re grouped  and managed to peg back a penalty 15 minutes in, and held their own but could not get the break through that was needed to get them back in the end. A good run by Ben Kealy on the wing did give their supporters some hope. St Mary's knuckled down and held on to their lead.
All is not lost for this JCT side…The plate beckons and a final against St Andrews in the Fr Godfrey Cup, who put up a spirited performance in their defeat by Terenure….So lads don't despair…We look forward to seeing the commitment and strong tackling in the next few matches.