The history of St.Gerard's from 1918-68 in print
---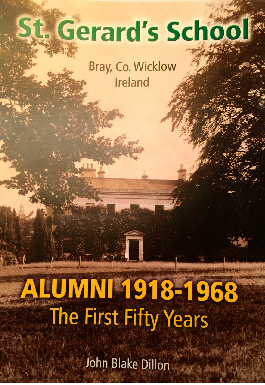 Tuesday, May, 6th, 2014


St Gerard's School the first 50 Years by John Blake Dillon available to purchase from Gillian Lynch at the school.
"Over the past 3 years one of our alumni, John Blake Dillon, who was at St.Gerard's from 1953-57, has drawn together data on all known alumni who were at & left the school during its first half century (1918-68).
In June this year he published an 87 page booklet based on this endeavour &, in mid July, he e-circulated all known surviving alumni from this 1918-68 era, who had e-mail access, with the information set out below.  If you are interested in having a copy of this booklet, while stocks of it last, please make direct contact with Gillian Lynch at St.Gerard's, as suggested below:
---
" "At long last & after 3 years of trawling various data sources, including some very helpful data provided by some alumni & other sources, this 87 page booklet eventually sees the light of day.
I take full responsibility for any errors in this publication, which was an entirely voluntary undertaking on my part.  The present school neither sought nor had any editorial or other influence in its content or focus, other than as explicitly referred to below & in my introduction to the booklet itself.
The Booklet's cover, front & back along with its contents page, are set out below for your information.   It includes more than 40 interesting photographs from that initial 50 year period.
* The contribution to this publication by Gillian Lynch at St.Gerard's cannot be overstated & for that, I & whoever else may be interested in this booklet, are forever in her debt.
* Dom Brian Murphy's permission to include 15 verbatim extracts, relevant to this period, from his fine history of St.Gerard's, published in 1999 but alas now out of print, is greatly appreciated.
* Brian Sampson (1956-61) provided the photo which I have used for the cover – Brian's father & uncle were both at St.Gerard's from 1919-21 – thank you Brian.
I have had 300 copies printed & if you would like to have a copy please send your name & full current postal address directly to Gillian at St.Gerard's, Thornhill Rd, Bray, Co.Wicklow along with either cash or a cheque for €20 or £20 or $30 to partly cover my printing costs incurred + postage etc.   I have already sent out 50 complimentary copies out to those who have provided significant data, photographs & other memorabilia to this project over these past 3 years along with 20 further complimentary copies to the present Board of Governors of the School.
There still remain many data gaps about fellow alumni from this 1918-68 era so please do send us, by e-mail or hard copy, any new data you may be aware of & do please "nit-pick" this first effort to cobble together old & fragmented alumni data from the school's first half century.   There will be errors (Dates, RIP Years, Names or Follow-on schools wrong etc) & I would like to have them corrected for posterity so please do not feel that either Gillian or I will be "bruised" by your pointing out all & any such errors or gaps, which you might notice as you browse the booklet; we will welcome all such contributions, as will posterity !
Some updated data, which has come to light even since the booklet went to print in late May, includes clarification about:
*The 2 Warren-Darley brothers (not just Darley !), who were at St.Gerard's before going on to Douai: Arthur was at St.Gerard's from 1919-22 & he died in Dublin in 1948 whereas George, who was at St.Gerard's from 1921-25, was KIA with the Royal Canadian Air Force in 1944.
*John F Farrell (1926-30), who went on to Harrow, died in 1997 in Perth WA.
*Ernest Kirwan spent less than a full year at St.Gerard's from Sept 1939 & remembers the declaration of WW2 while there before going to the US with his American mother after his father was called-up for military service & unusually returning to Ampleforth in 1944.  He is now alive & well in Kent, England.
*There are also 2 naming errors on the team photo at the top of page 83 & alas these 2 naming errors just go to prove that despite my best efforts Homer continues to occasionally nod !
Best regards & again great thanks to all of who have contributed data, photos &/or other memorabilia to this 3 year Alumni Trawl project.
I hope you enjoy browsing through this booklet if you decide to acquire it.